Ms Marlene Harney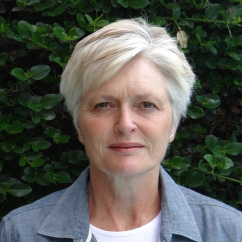 Senior Technical Assistant
Department
FABI
This email address is being protected from spambots. You need JavaScript enabled to view it.
I manage the Biocontrol Centre facilities at the Experimental Farm, which consist of a sterile and a quarantine section. At the centre, a team of technical staff and students do research on and rear biological control agents against forest insect pest. At present the biological control agents include the nematode Deladenus siricidicola and its associated fungus, Amylostereum areolatum, the Eulophid wasp Selitrichodes neseri, the Mymarid wasp Cleruchoides noackae and the Encyrtid wasp Psyllaephagus bliteus. Rearing these agents requires an understanding of the taxonomy and biology of both the agents and the pest species, as well as the growing requirements of different Eucalyptus species. I am also responsible for the curation of the Insect Reference Collection and the maintenance of the Insect Bionumerics Database.
My Journal Articles
Export to RIS
Publication
Bush SJ, Slippers B, Neser S, Harney M, Dittrich-Schröder G, Hurley BP. (2016) Six recently recorded Australian insects associated with Eucalyptus in South Africa. African Entomology 24(2):539-544. 10.4001/003.024.0539

Dittrich-Schroder G, Harney M, Neser S, Joffe T, Bush S, Hurley BP, Wingfield MJ, Slippers B. (2014) Biology and host preference of Selitrichodes neseri: A potential biological control agent of the Eucalyptus gall wasp, Leptocybe invasa. Biological Control 78:33-41. 10.1016/j.biocontrol.2014.07.004

Mutitu EK, Garnas JR, Hurley BP, Wingfield MJ, Harney M, Bush SJ, Slippers B. (2013) Biology and rearing of Cleruchoides noackae (Hymenoptera: Mymaridae), an egg parasitoid for the biological control of Thaumastocoris peregrinus (Hemiptera: Thaumastocoridae). Journal of Economic Entomology 106:1979-1985. 10.1603/EC13135

Kelly J, La Salle J, Harney M, Dittrich-Schröder G, Hurley BP. (2012) Selitrichodes neseri n. sp., a new parasitoid of the eucalyptus gall wasp Leptocybe invasa Fisher & La Salle (Hymenoptera: Eulophidae: Tetrastichinae). Zootaxa 3333:50-57.