Ms Ntwanano Luann Maluleke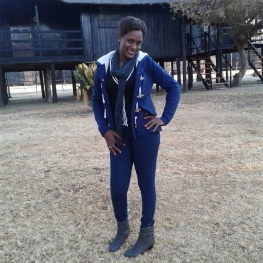 MSc student
Department
Biochemistry, Genetics and Microbiology
This email address is being protected from spambots. You need JavaScript enabled to view it.
My Supervisor/s
My research focuses on investigating the diversity of soft rot pathogens in South Africa with respect to the many different host plants they infect, under the supervision of Dr Lucy Moleleki. Different molecular techniques are used to identify and characterize these pathogens. Soft rot pathogens are known to affect a wide variety of fruit, vegetables and ornamental plants including, banana, potato, and diunthus species. These pathogens cause severe economic losses to the potato and commercial production industries around the world and collectively cause soft rot; blackleg and aerial stem rot symptoms. They fall under the soft rot-Enterobacteriaceae (SRE) family which is gram negative and pectolytic.
The SRE family was reclassified into two genera which are Pectobacterium and Dickeya species, previously called Erwinia carotovora and Erwinia chrysanthemi respectively. Since the new names were adopted, several Pectobacterium spp have been identified in potatoes. However, of the six different Dickeya spp, only one species (previous E. chrysanthemi) was reported in South Africa. Hence, there is very little knowledge of presence of many of these species in potatoes or other crop plants in South Africa.
Thus this study investigates the diversity of soft rot pathogens (both Pectobacterium and Dickeya) in different crop (including potato) plants grown in South Africa. Understanding the diversity of these pathogens is important as it plays a role in developing strategies to effectively manage/ control the disease.
My Journal Articles
Export to RIS