Mr Stanford Kwenda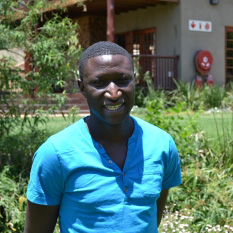 PhD student
Department
Biochemistry, Genetics and Microbiology
This email address is being protected from spambots. You need JavaScript enabled to view it.
My Supervisor/s
I am a PhD student in the Bacterial Genomics and Plant Pathogen Interactions group, within FABI at the University of Pretoria, under the supervision of Dr Lucy Moleleki and Prof P. Birch (Dundee University, UK). I completed my MSc in Bioinformatics with Molecular Biology in 2012, and I have been working as Molecular Biologist at the Tobacco Research Board in Zimbabwe prior to enrolling at the University of Pretoria.
My research interests are centered on employing bioinformatics tools in gene expression studies and functional genomics.
Currently, my research is focused on transcriptome profiling of potato (Solanum tuberosum) under Pectobacterium carotovorum subsp. brasiliense (Pcb) challenge. An understanding of host responses under pathogen challenge is essential to elucidate the mechanisms of plant-microbe interactions. To date, little is known about the response of host plants to Pectobacterium infection. Specifically, my project will involve RNA sequencing (RNA-Seq) of potato (Solanum tuberosum) to determine the genetic basis of potato defense responses.
My Journal Articles
Export to RIS
Publication
Siphathele Sibanda, Stanford Kwenda, Collins K. Tanui, Divine Shyntum, Teresa Coutinho, Lucy Moleleki. (2018) Transcriptome profiling reveals the EanI/R quorum sensing regulon in Pantoea ananatis LMG 2665T. Genes 9(3):148. 10.3390/genes9030148

Gorshkov V, Kwenda S, Petrova O, Osipova E, Gogolev Y, Moleleki LN. (2017) Global Gene Expression Analysis of Cross-Protected Phenotype of Pectobacterium atrosepticum. PLoS ONE 12(1) 10.1371/journal.pone.0169536

Kwenda S, Motlolometsi TV, Birch PRJ, Moleleki LN. (2016) RNA-seq profiling reveals defense responses in a tolerant potato cultivar to stem infection by Pectobacterium carotovorum ssp. brasiliense. Frontiers in Plant Science 7(1905) 10.3389/fpls.2016.01905

Kwenda S, Birch PRJ, Moleleki LN. (2016) Genome-wide identification of potato long intergenic noncoding RNAs responsive to Pectobacterium carotovorum subspecies brasiliense infection. BMC Genomics 17(614) 10.1186/s12864-016-2967-9

Kwenda S, Gorshkov V, Ramesh AM, Naidoo S, Rubagotti E, Birch PRJ, Moleleki LN. (2016) Discovery and profiling of small RNAs responsive to stress conditions in the plant pathogen Pectobacterium atrosepticum. BMC Genomics 17(1) 10.1186/s12864-016-2376-0

Onkendi EM, Ramesh AM, Kwenda S, Naidoo S, Moleleki LN. (2016) Draft Genome Sequence of a Virulent Pectobacterium carotovorum subsp. brasiliense Isolate Causing Soft Rot of Cucumber. Genome Announcements 4(1) 10.1128/genomeA.01530-15