Mr Ludwig Eksteen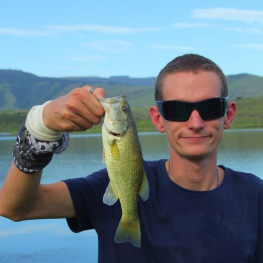 MSc student
Department
Zoology and Entomology
This email address is being protected from spambots. You need JavaScript enabled to view it.
My Supervisor/s
Since I can remember I have been fascinated with insects, and it is this fascination that led me to study entomology. Now that I am an entomologist, my main interests lie in host usage and specificity, spatial patterns, ecology and life histories of insects. I am also interested in plant insect interactions, more specifically plant defence strategies and pollination syndromes and strategies.
During my Honours project I focused on the spatial patterns of the European woodwasp (Sirex noctilio) as well as whether or not tree stress could be determined by examining growth rings in Pinus patula.
I'm currently busy doing my Masters degree, which focuses on the host usage and spatial patterns in S. noctilio.
Along with my studies in insects I take photos of insects and spiders during my free time. The main goal is not only enjoying it and getting the best shot, but also to share the weird and wonderful insects and spiders – a world that people often don't see during a normal day, despite these creatures being all around them.


---
Psalm 111:2 - "The works of the Lord are great, studied by all who have pleasure in them."
Current research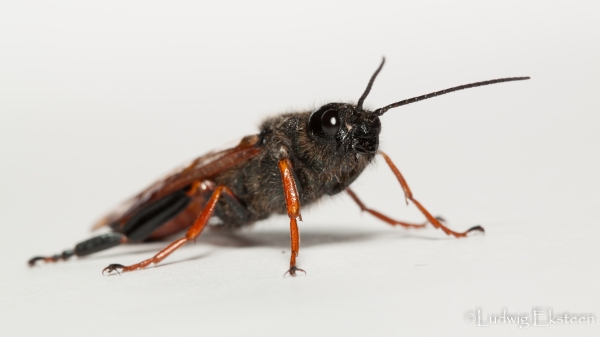 Sirex noctilio Male
The successful management of insect pests on commercial crops requires a good understanding of the host utilization patterns. Pine trees is an economically important crop within South Africa and Sirex noctilio, the European woodwasp, is a significant pest species of pine trees. This study investigates the host utilization patters by S. noctilio, to understand what Pinus species are more susceptible to the pest. Further we are investigating recent tree growth to determine whether there is a difference in growth patterns between infested and non infested trees. Insight into these host utilization patterns by S. noctilio will assist in future management decisions.
---
BSc Honours Entomology Abstract
Sirex noctlio Female Ovipositing
The dispersion of organisms can be influenced by various elements of ecology, behaviour and the life history of the organism. Sirex noctilio is a major pest in pine plantations across the world. Understanding the effect of population size on the spatial patterns of S. noctilio can aid in the planning of successful biological management strategies. The Chacma baboons  (Papio ursinus) damages trees and has the potential to physiologically stress trees and may cause trees to become susceptible to Sirex. This possibility of interaction occurring between the Chacma baboon and S. noctilio was investigated during this study. The spatial patterns of S. noctilio were assessed around Waterval Boven in the Mpumalanga province of South Africa. Further tree cores from randomly selected trees were assessed to determine the accuracy of DBH as a measure of tree vigor.
---
My Galeries