Ms Zelda Pieterse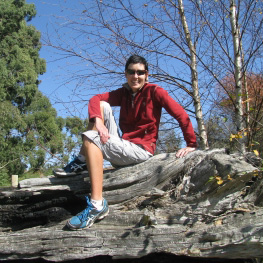 PhD student

Department

Biochemistry, Genetics and Microbiology

Biosketch
Short CV

This email address is being protected from spambots. You need JavaScript enabled to view it.
Member of:
My Links
Title of the project
Fungal biodiversity associated with mesembs in the Namaqua National
Park in the Succulent Karoo biome
The International Union for Conservation of Nature (IUCN) has identified the Succulent Karoo biome in South Africa as a very definite gap on the World Heritage list. The Namaqualand region of South Africa falls within the Succulent Karoo biome, identified as one of the world's 34 biodiversity hotspots (one of three hotspots in South Africa). Nothing is known of the fungal or nematode diversity in the biome and to date there are no studies on the diversity of fungi or nematodes in the Namaqua National Park.
The aim of the project is to determine the biodiversity of the fungal and nematode associated with mesembs, and the rhizosphere in which they grow, within the Namaqua National park in the Succulent Karoo biome. Floristic and microbial surveys will be carried out three times per year during 2014/2015 and 2015/2016 at sites selected within the Namaqua National Park in the Succulent Karoo Biome (representing the six land types Fb 153; Ib 235; Ag 94; Ag 96; Ae 79 and Ae 164, for comparison). Collected fauna and flora species will be preserved and pressed using conventional herbarium practices continuously throughout the project. Plant samples, healthy and showing disease symptoms, will be analysed further. Isolations will be made from seed, plant and soil samples and endophytic and pathogenic fungi and nematodes will be identified. The nonculturable fraction of the fungal community will be characterised by means of meta-barcoding. The species collected will be described using the correct nomenclature and sequenced to confirm the identity of the species and added to the International Barcode of Life (iBOL) and the NCBI databases. Of particular interest will be new fungi or nematodes that have not been described before. An inventory of these organisms in the Succulent Karoo biome, an area of strategic biodiversity importance, will be made. 
My Journal Articles
Export to RIS
Publication
Pieterse E, Aveling TAS, Jacobs A, Cowan DA. (2018) Seasonal variability in fungal endophytes from Aizoaceae plants in the Succulent Karoo biodiversity hotspot, South Africa. Journal of Arid Environments 156:19–26. 10.1016/j.jaridenv.2018.05.004