Dr Ramesh Aadi Moolam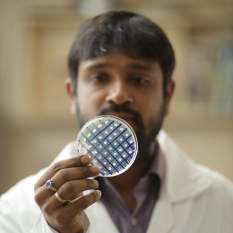 Postdoctoral Fellow
Department
Biochemistry, Genetics and Microbiology
This email address is being protected from spambots. You need JavaScript enabled to view it.
Research Profiles
Current Research:
I am a Post-Doctoral Researcher in Dr. Lucy N Moleleki's lab in the Dept. of Microbiology and Plant pathology since September, 2014. Currently, I am working on sequence defined transposon mutant library of phytopathogen Pectobacterium carotovorum subsp. brasiliense (Pcb), a member of the soft rot enterobacteriaceae group of pathogens.
......................................................................................................................................................
My Background:
I have completed my B.Sc. (Microbiology) with specialization in Chemistry and Botany in 2002 from Govt. Degree college, Gajwel (Affiliated to Osmania University, Hyderabad), Andhra Pradesh, India. After that I have perceived my Master's (M.Sc) in Biotechnology from SRTM University, Nanded, Maharashtra. During My masters, I carried out research on Extraction and Purification of Extra cellular Pectic Enzymes (Pectinlyase) from free living Rhizobium species". After my M.Sc, immediately joined for Agriculture department, Govt. of Andhra Pradesh, where I worked as Multipurpose extension officer for one and half year. Later I secured all India rank 445 with 95.54 percentile in Graduate Aptitude Test in Engineering (GATE) organized by IIT Kharagpur, India and got the scholarship from 2006-2008 to pursue my master's degree (M.Tech) in Biotechnology from Jawaharlal Nehru Technological University Hyderabad (JNTUH) campus, Hyderabad, India. During my post-graduation (M. Tech), I have developed a recombinant vaccine against chicken Coccidiosis (a major disease that effects poultry industries worldwide) at Indian Immunologicals Ltd., (IIL) Hyderabad, India and was published in peer reviewed journal. I also worked on BCIL (Biotech consortium India Ltd., Govt. of India) funded project entitled "Evaluation of sub-unit vaccine against chicken Coccidiosis" at Plant Molecular Biology Lab, R&D section, IIL, Hyderabad, India.
My research interest became stronger after my double masters and I moved to Indian Institute of Technology Guwahati (IITG) to join as a doctoral student in the Department of Biotechnology, IITG, India in July, 2009 and carried out a multidisciplinary research during my doctoral study period under the joint supervision of Prof. Latha Rangan and Dr. Bithiah G Jaganathan at IITG. My research interests mainly include Plant Molecular Biology and Biotechnology.
I have completed the doctoral study with dedication and interest in multidisciplinary research. My doctoral research mainly focused on cyto-genetic studies in biofuel crop Pongamia towards understanding the germplasm to improve its key traits and extensively studied in cell & molecular level (cDNA library construction from seeds of Pongamia pinnata and screening for useful genes that are involved in fatty acid biosynthesis, gene expression studies and ploidy level determination using Flow Cytometry). As a part of my research work, I have been to MS Swaminathan Research Foundation at Chennai, India for two months and experienced with various techniques like library construction, Real-Time PCR, AFLP genotyping and gene copy number detection by using radio labeled probes. During my PhD, I have been awarded as "YOUNG SCIENTIST" by G. B. Pant University of Agriculture & Technology, India for the best paper presentation in area of Biochemistry & Molecular Biology.
During my doctoral studies i have undergone 13th Indo-US workshop on "Applications of Flow cytometry in Plant genomics and Nanotechnology, organized by IITG & University of Miami at IITG during October, 2012. Furthermore I also undergone a training programme on real-time PCR related to my doctoral research sponsored by Applied Biosystems, India in 2010. During my doctoral studies I have got fellowships from various funding bodies like DIT, DST, MHRD and DBT, Govt. of India. Since 2012, I am a student member in the International Society for the Advancement of Cytometry (ISAC).
Till now I have published over 7 research papers and book chapters in the field of Plant Molecular biology and Biotechnology. Besides I have also attended /presented in over 9 national and international conferences.
My Journal Articles
Export to RIS
Publication
Kwenda S, Gorshkov V, Ramesh AM, Naidoo S, Rubagotti E, Birch PRJ, Moleleki LN. (2016) Discovery and profiling of small RNAs responsive to stress conditions in the plant pathogen Pectobacterium atrosepticum. BMC Genomics 17(1) 10.1186/s12864-016-2376-0

Onkendi EM, Ramesh AM, Kwenda S, Naidoo S, Moleleki LN. (2016) Draft Genome Sequence of a Virulent Pectobacterium carotovorum subsp. brasiliense Isolate Causing Soft Rot of Cucumber. Genome Announcements 4(1) 10.1128/genomeA.01530-15

Ramesh AM, Kesari V, Rangan L. (2014) Characterization of a stearoyl-acyl carrier protein desaturase gene from potential biofuel plant, Pongamia pinnata. L. Gene 542:113-121.