Mr Daniel Ali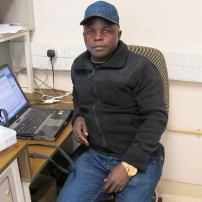 PhD student
Department
Biochemistry, Genetics and Microbiology
This email address is being protected from spambots. You need JavaScript enabled to view it.
My Supervisor/s
My interest in Mycology and Plant pathology sprang from my Honours and Masters degrees' theses which were basically on fungi. I obtained my Master's degree in Botany from the Ahmadu Bello University Zaria, Nigeria where I did morphological descriptions and taxonomic studies of Agaricales (mushrooms).
My desire to pursue a doctorate degree led me to join the University of Pretoria in 2015, following my successful admission to do a research in the Forestry and Agricultural Biotechnology Institute (FABI).
My research will focus on Cryphonectriaceae species. These are important pathogens causing various canker diseases in both native and non-native tree species. My main objectives are; to determine the distribution, morphology and taxonomy of Cryphonectriaceae species living as endophytes in Myrtaceae (Eugenia, Syzygium and Heteropyxis) species native to South Africa; and to undertake a population studies of the pathogens. Molecular approach will be carried to ascertain genetic diversity and phylogenetic relationships among species. I also intend to develop molecular diagnostic assay for rapid and accurate diagnosis of Cryphonectriaceae species from plant material.
My Journal Articles
Export to RIS