Dr Stuart Fraser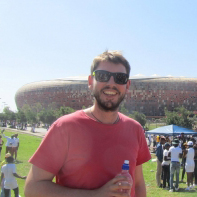 Postdoctoral Fellow

Department

FABI

Full CV

This email address is being protected from spambots. You need JavaScript enabled to view it.
Research Profiles
I am working to understand the epidemiology and life cycle of Uromycladium acaciae, the causal agent of a serious rust (Puccinales) disease in Acacia mearnsii (black wattle) plantations in southern Africa. Very little is known about this pathogen species or other species within the Uromycladium genus. Interestingly, this pathogen may have been present in South Africa since at least the mid-late 1980s, however it was not observed causing significant damage until 2013. The recent emergence of the disease has co-occurred with the appearance of the telial life stage of the pathogen. Research will therefore focus on both basic disease epidemiology, as well as understanding the pathogen's life cycle. Early research will aim to investigate the importance of environmental factors on disease severity and pathogen life cycle. While, later research will aim to investigate the importance of host and pathogen factors. This research will not only have important implications for control of the disease, but will also improve our knowledge of rust lifecycles.
Before moving to FABI, I read BSc Ecology at the University of Sheffield, where my final year projects included, 1. looking at local adaptation in seed size, and 2. predator impacts on the behaviour and morphology of water fleas (Daphnia). For my MSc dissertation (Conservation and Forest Protection, Imperial College London) I worked on local adaptation in the germination requirements of Eucalyptus obliqua and its impact on the susceptibility of this species to climate change (University of Melbourne). Finally whilst studying for my PhD thesis (Forestry, University of Aberdeen) I moved over to plant pathology, working on variation in host susceptibility to dothistroma needle blight, caused by Dothistroma septosporum, within species commonly used in British forestry.
My Book Chapters
Export to RIS
Book Chapters
Fraser S, Woodward S. 2014. Invasive alien pests and pathogens. In: A Handbook of Scotland's Trees. Martynoga F. (eds). Reforesting Scotland. Sangan Publishers, Glasgow, pp 52-58.

My Journal Articles
Export to RIS
Publication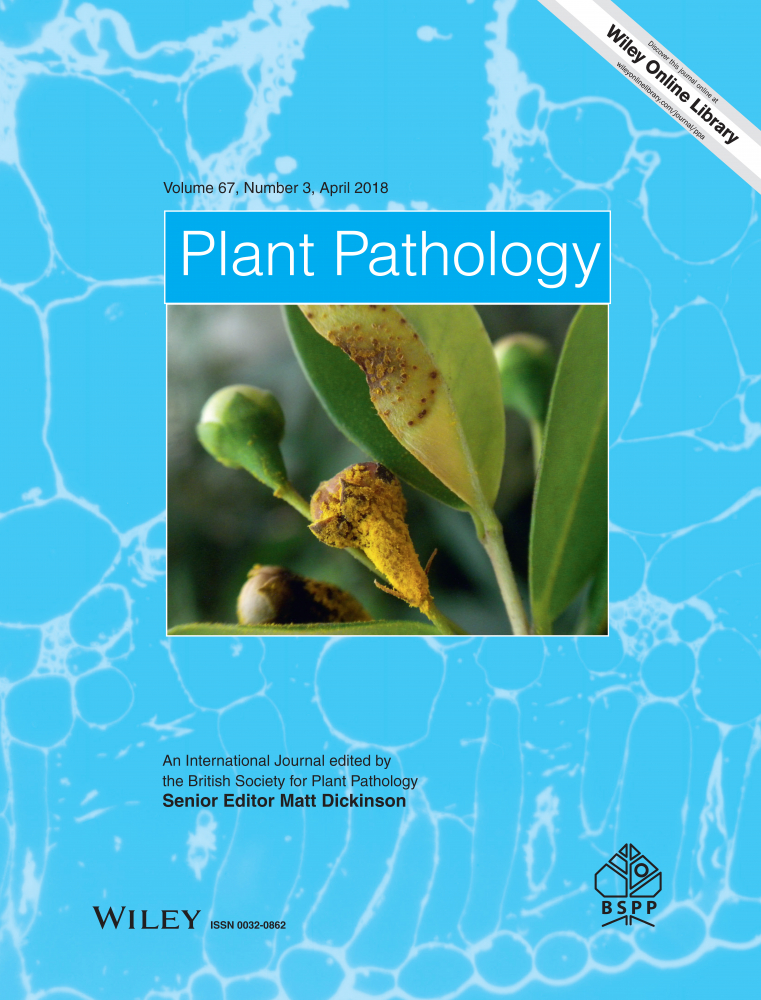 McTaggart AR, Shuey LS, Granados GM, du Plessis E, Fraser S, Barnes I, Naidoo S, Wingfield MJ, Roux J. (2018) Evidence that Austropuccinia psidii may complete its sexual life cycle on Myrtaceae. Plant Pathology 67:729-734. 10.1111/ppa.12763

Fraser S, McTaggart AR, Wingfield MJ, Roux J. (2017) Effect of temperature, leaf wetness and the developmental stage of host tissue on infection of Acacia mearnsii by Uromycladium acaciae (Pucciniales). Australasian Plant Pathology 46(5):407-419. 10.1007/s13313-017-0503-2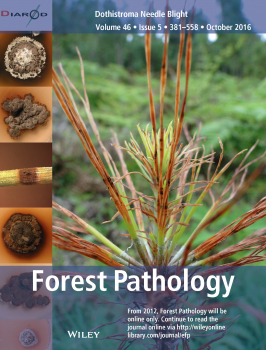 Drenkhan R, Tomešová-Haataja V, Fraser S, Bradshaw RE, Vahalík P, Mullett MS, Martín-García J, Bulman LS, Wingfield MJ , Kirisits T, Cech TL, Schmitz S, Baden R, Tubby K, Brown A, Georgieva M, Woods A, Ahumada R, Jankovský L, Thomsen IM, Adamson K, Marçais B, Vuorinen M, Tsopelas P, Koltay A, Halasz A, La Porta N, Anselmi N, Kiesnere R, Markovskaja S, Kačergius A, Papazova-Anakieva I, Risteski M, Sotirovski K, Lazarević J, Solheim H, Boroń P, Bragança H, Chira D, Musolin DL, Selikhovkin AV, Bulgakov TS, Keča N, Karadžić D, Galovic V, Pap P, Markovic M, Poljakovic Pajnik L, Vasic V, Ondrušková E, Piškur B, Sadiković D, Diez JJ, Solla A, Millberg H, Stenlid J, Angst A, Queloz V, Lehtijärvi A, Doğmuş-Lehtijärvi HT, Oskay F, Davydenko K, Meshkova V, Craig D, Woodward S, Barnes I. (2016) Global geographic distribution and host range of Dothistroma species: a comprehensive review. Forest Pathology 46(5):408-442. 10.1111/efp.12290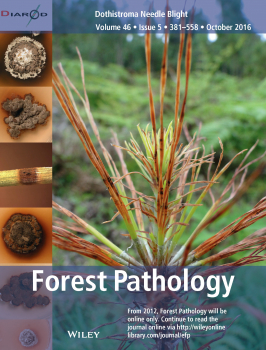 Alenezi F, Fraser S, Belka M, Doğmus-Lehtijärvi HT, Oskay F, Hečková Z, Belbahri L, Woodward S. (2016) Biological control of Dothistroma needle blight on pine with Aneurinibacillus migulanus. Forest Pathology 46:555-558. 10.1111/efp.12237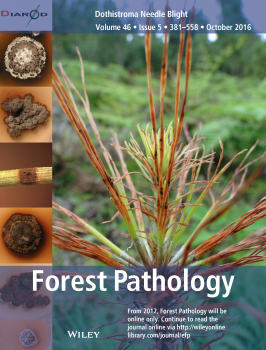 Mullett MS, Fraser S. (2016) Infection of Cedrus species by Dothistroma septosporum. Forest Pathology 46:551-554. 10.1111/efp.12214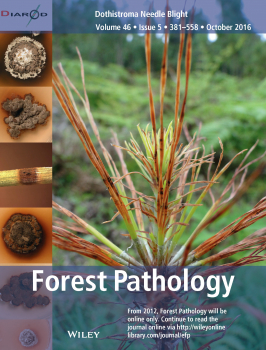 Fraser S, Woodward S, Brown AV. (2016) Inter- and intra-specific variation in susceptibility to dothistroma needle blight in Britain. How susceptible are Pinus sylvestris and Pinus contorta?. Forest Pathology 46:534-546. 10.1111/efp.12217

Fraser S, Mullett MS, Woodward S, Brown AV. (2016) Between‐site and ‐year variation in the relative susceptibility of native Scottish Pinus sylvestris populations to dothistroma needle blight. Plant Pathology 65(3):369-379. 10.1111/ppa.12425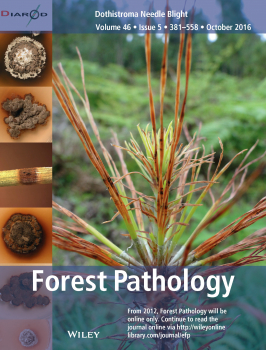 Fraser S, Martin-Garcia J, Perry A, Kabir MS, Owen T, Solla A, Brown AV, Bulman L, Barnes I, Hale MD, Vasconcelos MW, Lewis K, Doğmuş-Lehtijarvi HT, Markovskaja S, Woodward S, Bradshaw RE. (2016) A review of Pinaceae resistance mechanisms against needle and shoot pathogens with a focus on the Dothistroma-Pinus interaction. Forest Pathology 46:453-471. 10.1111/efp.12201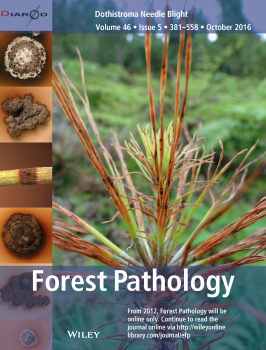 Fraser S, Weitz H, Brown AV, Woodward S. (2016) Storage of Dothistroma septosporum cultures. Forest Pathology 46:547-550. 10.1111/efp.12189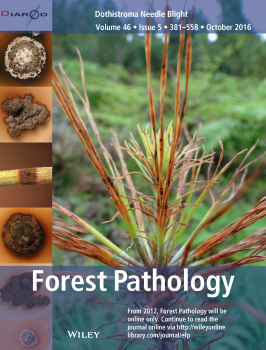 Bulman LS, Bradshaw RE, Fraser S, Martín-García J, Barnes I, Musolin DL, La Porta N, Woods A, Diez JJ, Koltay A, Drenkhan R, Ahumada R, Poljakovic Pajnik L, Queloz V, Piškur B, Doğmuş-Lehtijärvi HT, Chira D, Tomešová-Haataja V, Georgieva M, Jankovský L, Anselmi N, Markovskaja S, Papazova-Anakieva I, Sotirovski K, Lazarević J, Adamčíková K, Boroń P, Bragança H, Vettraino AM, Selikhovkin AV, Bulgakov TS, Tubby K. (2016) A worldwide perspective on the management and control of Dothistroma needle blight. Forest Pathology 46:472-488. 10.1111/efp.12305

Fraser S, Bown AV, Woodward S. (2015) Intraspecific variation in susceptibility to dothistroma needle blight within native Scottish Pinus sylvestris. Plant Pathology 64(4):864-870. 10.1111/ppa.12320