Mr Barkat Ali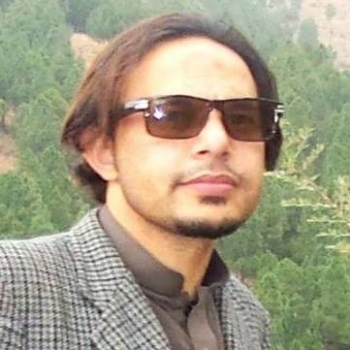 PhD student

Department

FABI

Short CV

This email address is being protected from spambots. You need JavaScript enabled to view it.
Research Profiles
My Supervisor/s
Welcome - I completed my first Master degree in Botany (with Plant Pathology and Mycology courses) at University of Malakand, Pakistan. After gaining theoretical knowledge in the Plant Sciences, I obtained my second Master degree (MPhil) in Plant Genetics and Genomics at Quaid-i-Azam University, Pakistan.
During MPhil, my research work was on identification, taxonomy and phylogenetic analysis of rust fungi (Pucciniales) from multiple hosts in Pakistan. We proposed that probably we only know 14% of extant rust species on the globe (personally shared by a rust specialist: Prof. Yoshitaka Ono). The low percentage coverage is probably due to the richest and still unexplored rust fungi spots, but also very few rusty scientists in the rust thrive regions, as for example, South Asia.
I joined FABI as a PhD student in 2018 to continue my research work on rust fungi. In PhD, I will work on Uromycladium acaciae (wattle rust), the cause of rust disease on black wattle (Acacia mearnsii > native to Australia), which is an emerging threat to plantations of black wattle (Fabaceae). Black wattle is an economically important crop for forestry in South Africa and black wattle industry.
I would deploy phylogenetic, genomic and population genetic approaches to study this important pathogen. 
My Journal Articles
Export to RIS
Publication
Soahil Y, Ali B, Ghazal K, Iqbal J, Badshah H, Mumtaz AS. (2018) Berberis lycium: The newly discovered aecial host of Puccinia striiformoides. Mycotaxon 133(3):439-447. 10.5248/133.439

Badshah H, Ali B, Shah SA, Alam MM, Aly HI, Mumtaz AS. (2018) First record of Morchella pulchella from Pakistan. Mycotaxon 133(1):201-207. 10.5248/133.201

Iqbal J, Abbasi BA, Batool R, Mahmood T, Ali B, Khalil AT, Kanwal S, Shah SA, Ahmad R. (2018) Potential phytocompounds for developing breast cancer therapeutics: Nature's healing touch. European Journal of Pharmacology 827:125-148. 10.1016/j.ejphar.2018.03.007

Iqbal J, Badshah H, Alam MM, Shah SA, Kanwal S, Khalil AT, Ali B, Mahmood T, Ahmad R, Abbasi BA, Munir A. (2018) Nanomedicines for developing cancer nanotherapeutics: from benchtop to bedside and beyond. Applied Microbiology and Biotechnology 102(22):9449–9470. 10.1007/s00253-018-9352-3

Ali B, Soahil Y, Mumtaz AS, Berndt R. (2017) Phragmidium punjabense, a new species of rust fungus on Rosa brunonii in the outer Himalayan ranges of Murree, Pakistan. Nova Hedwigia 105(3):385-396. 10.1127/nova_hedwigia/2017/0418

Ali B, Soahil Y, Mumtaz AS. (2017) Puccinia aizazii, a new rust fungus on Jasminum humile from foothills of Himalayan ranges. . Sydowia 69:131-134. 10.12905/0380.sydowia69-2017-0131

Ali B, Soahil Y, Mumtaz AS. (2017) Distribution of rust fungi (Puccinia and Phragmidium) and host plants in Pakistan. Journal on New Biological Reports 6(1):27-32. https://bit.ly/2D7ZNV8

Iqbal J, Abbasi BA, Mahmood T, Kanwal S, Ali B, Shah SA, Khalil AT. (2017) plant-derived anticancer agents: A green anticancer approach. Asian Pacific Journal of Tropical Biomedicine 7(12):1129-1150. 10.1016/j.apjtb.2017.10.016

Ali B, Soahil Y, Toome-Heller M, Samad AS. (2016) Melampsora pakistanica sp. nov., a new rust fungus on Euphorbia helioscopia (sun spurge) from Pakistan. Mycological Progress 15:1285-1292. 10.1007/s11557-016-1244-2

Ali B, Soahil Y, Mumtaz AS. (2016) New host records of rust fungi (Pucciniales) from Pakistan. Mycotaxon 131(3):503-509. 10.5248/131.503

Ali B, Soahil Y, Mumtaz AS. (2016) First record of Pileolaria terebinthi (Pucciniales) in Pakistan. Mycotaxon 131(2):403-405. 10.5248/131.403

Ali B, Soahil Y, Tasmia A, Mumtaz AS. (2016) Biogeography of rust fungi and their hosts in Pakistan. Science International (Lahore) 28(5):4777-4781. https://bit.ly/2D5x2Is