Dr Elsie Cruywagen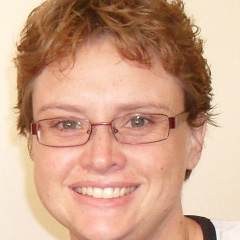 Postdoctoral Fellow
Department
Biochemistry, Genetics and Microbiology
This email address is being protected from spambots. You need JavaScript enabled to view it.
Research Profiles
 I am currently a Postdoctoral Fellow in the Tree Protection Cooperative Programme (TPCP) where I am continuing my work on fungi occurring on baobab (Adansonia) trees. My main interest is in mycology and specifically fungi occurring on plants and plant products. I completed my PhD in plant pathology on the fungi occurring on baobab and specifically those that are pathogenic to these trees. Part of my project looked at the endophytic fungi occurring on baobab trees in Africa and Madagascar and to compare these to the fungi found on baobab trees in Australia. The identity of the black fungi colonising stressed baobab trees was also determined as well as some novel fungal species that was growing on wounds on baobab trees in South Africa and Madagascar.

The project that I worked on for my MSc was on fungi causing decay of wooden utility poles in South Africa. The survey was conducted across a range of different climatic and soil conditions. Approximately 450 isolates was obtained and had to be identified. The main groups isolated were inoculated onto wood to determine which of the fungi caused decay. Several new fungal species were described from this work.
My Journal Articles
Export to RIS
Publication
Cruywagen EM, Slippers B, Roux J, Wingfield MJ. (2017) Phylogenetic Species Recognition and hybridisation in Lasiodiplodia: A case study on species from baobabs. Fungal Biology 121(4):420-436. 10.1016/j.funbio.2016.07.014

Cruywagen EM, Crous PW, Roux J, Slippers B, Wingfield MJ. (2015) Fungi associated with black mould on baobab trees in southern Africa. Antonie van Leeuwenhoek 108(1):85-95. 10.1007/s10482-015-0466-7

Crous PW, Wingfield MJ, Guarro J, Cheewangkoon R, van der Bank M, Swart WJ, Stchigel AM, Cano-Lira JF, Roux J, Madrid H, Damm U, Wood AR, Shuttleworth LA, Hodges CS, Munster M, de Jesús Yáñez-Morales M, Zúñiga-Estrada L, Cruywagen EM, de Hoog GS, Silvera C, Najafzadeh J, Davison EM, Davison PJN, Barrett MD, Barrett RL, Manamgoda DS, Minnis AM, Kleczewski NM, Luke Flory S, Castlebury LA, Clay K, Hyde KD, Maússe-Sitoe SND, Chen S, Lechat C, Hairaud M, Lesage-Meessen L, Pawłowska J, Wilk M, Śliwińska-Wyrzychowska A, Mętrak M, Wrzosek M, Pavlic-Zupanc D, Maleme HM, Slippers B, MacCormack WP, Archuvy DI, Grünwald NJ, Teresa Tellería M, Dueñas M, Martín MP, Marincowitz S, de Beer ZW, et al. (2013) Fungal Planet description sheets: 154–213. Persoonia 31:188-295. 10.3767/003158513X675925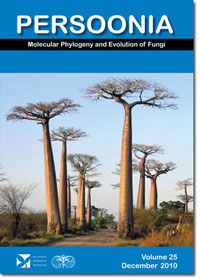 Cruywagen EM, De Beer ZW, Roux J, Wingfield MJ. (2010) Three new Graphium species from baobab trees in South Africa and Madagascar. Persoonia 25:61-71. 10.3767/003158510X550368

de Meyer EM, de Beer ZW, Summerbell RC, Moharram AM, de Hoog GS, Vismer HF, Wingfield MJ. (2008) Taxonomy and phylogeny of new wood- and soil-inhabiting Sporothrix species in the Ophiostoma stenoceras-Sporothrix schenckii complex. Mycologia 100(4):647-661.