Mr Felix Fru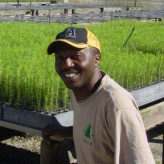 PhD student
Department
Biochemistry, Genetics and Microbiology
This email address is being protected from spambots. You need JavaScript enabled to view it.
My Supervisor/s
My Links
My name is Felix Fru and a PhD candidate with FABI, an institute of the University of Pretoria, South Africa with a research focus on forest health. My interest in trade particularly in Africa was my motivation for my research. Trade from Africa is greatly hampered by various barriers. Non-tariff barriers which are greatly influenced by pest and pathogens is a serious problem for farmers in the African continent.
After my BSc (hons) in Plant Quarantine, I registered for a Master's degree still in Plant Quarantine with the University of Pretoria. During my masters programme, I researched on Ceratocystis species on timber harvested for export in Ghana. Using morphological techniques and molecular tools, I was able to show that Ceratocystis fagacearum native to north America, is also common on native trees in Ghana.
Presently, my Phd research focus is on the pitch canker fungus, Fusarium circinatum. Fusarium circinatum is a fungi pathogen affecting pine trees globally. Since it was first identified in South Africa in the early 1990s, it has become one of the most important disease causing pathogens in South Africa. It is causing disease to young and mature pine trees and has attracted a lot a attention from the South African forest industry in recent years.
The objective of my PhD is to look at the genotype distribution and the ecology of F. circinatum in commercial pine plantations in South Africa.
My Journal Articles
Export to RIS