Dr Jeanne Korsman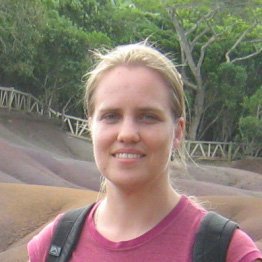 Postdoctoral Fellow
Department
Plant and Soil Sciences
This email address is being protected from spambots. You need JavaScript enabled to view it.
Member of:
Current work:
I am working on the functional characterisation of genes involved in the response of maize to its foliar pathogens.
Maize is vulnerable to both Grey Leaf Spot (GLS) and Northern Corn Leaf Blight (NCLB), fungal leaf diseases caused by Cercospora zeina and Exserohilum turcicum respectively. A number of maize genes involved in resistance to GLS and NCLB have been identified. I am busy further investigating the role some of these genes play in resistance to the diseases.
Previous work:
My PhD thesis was entitled "Molecular responses of maize to its foliar pathogen, Cercospora zeina". It focused on the molecular and genetic aspects of maize involved in quantitative resistance to C. zeina infection which causes GLS. It encompassed the development of a novel fungal quantification assay for use in both glasshouse and field trials. This assay was used for mapping quantitative trait loci, or genomic regions, controlling in planta fungal quantity. This is a novel way of identifying genomic regions involved in GLS disease resistance. I also identifed candidate genes involved in the response of maize to C. zeina by profiling expression levels of infected resistant and susceptible maize plants. These candidate genes included genes located in the genomic regions involved in GLS resistance. These genes may ultimately be used in maize breeding programmes or to produce a GLS resistant GMO event which will contribute to increasing maize yield and limiting fungicide application.
Before working on a plant and fungal pathosystem, I completed my MSc on an animal and viral pathosystem with a project titled "Characterization and sequence variation of the virulence-associated proteins of different tissue culture isolates of African Horsesickness virus serotype 4". The study investigated viral proteins believed to be involved in viral virulence, comparing the genes from a virulent strain and an attenuated virus derived from the original virulent virus.
My Journal Articles
Export to RIS
Publication
Berger DK, Carstens M, Korsman JN, Middleton F, Kloppers FJ, Tongoona P, Myburg AA. (2014) Mapping QTL conferring resistance in maize to gray leaf spot disease caused by Cercospora zeina. BMC Genetics 15:60. 10.1186/1471-2156-15-60

Korsman J, Meisel B, Kloppers F, Crampton B, Berger D. (2012) Quantitative phenotyping of grey leaf spot disease in maize using real-time PCR. European Journal of Plant Pathology 133:461-471. 10.1007/s10658-011-9920-1

Meisel B, Korsman J, Kloppers F, Berger DK. (2009) Cercospora zeina is the causal agent of grey leaf spot disease of maize in southern Africa. European Journal of Plant Pathology 124:577-583. 10.1007/s10658-009-9443-1