Ms Kirsti Snyders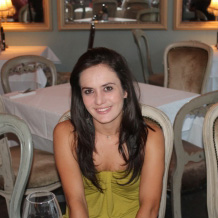 MSc student

Department

Biochemistry, Genetics and Microbiology

Biosketch
Full CV

This email address is being protected from spambots. You need JavaScript enabled to view it.
Member of:
My Supervisor/s
My current (MSc) research, "Isolation of Citrus Tristeza Virus genotypes using single aphid transmissions, and next-generation sequencing." is focusing on the detection of single Citrus Tristeza Virus genotypes, which will aid in future cross-protection scheme development as well as improving currently used protection schemes.
I approach each challenge with enthusiasm and have great work ethics. I possess a creative mind where I can analyse problems and find the best solution for the situation.  I am well-organized and hard working person and researcher.  I also possess a great personality and maintain a professional and friendly relationship with my fellow colleagues. 
I believe a positive outlook on life will reflect the person who you are.